Hoseless Wash Woolie
Regular price
Sale price
$60.00
Unit price
per
Sale
Sold out
The best solution for keeping your wheels clean without water.
Have a wheel woolie? Good. How about the AMMO AERATOR? Of course you do. Well, we took both of these tools and married them (it's a happy marriage) to create the AMMO FLO-THRU WOOLIE. Attach the hose to your AERATOR, pump it up and FROTHÉ solution will foam out from the Woolie tip. It's great for safely cleaning those hard to reach spots like your brake calipers, wheel barrels, and under the hood when you don't have access to water. We've worked with Braun to bring this one-of-a-kind brush to market. Genius? Maybe. Must-have? Absolutely.
Flo-Thru Design dispenses Frothé foam directly from the Woolie
Soft micropile lifts dirt & contaminants
Connects directly to AMMO Aerator
Safely cleans Wheels, Suspension Components, Engine Bays, Undercarriages
Perfect for Hoseless and Winter Washes inside
Patented construction with no adhesives or metal components to scratch rims
Clean entire wheels without taking them off
Made in the USA
Share
View full details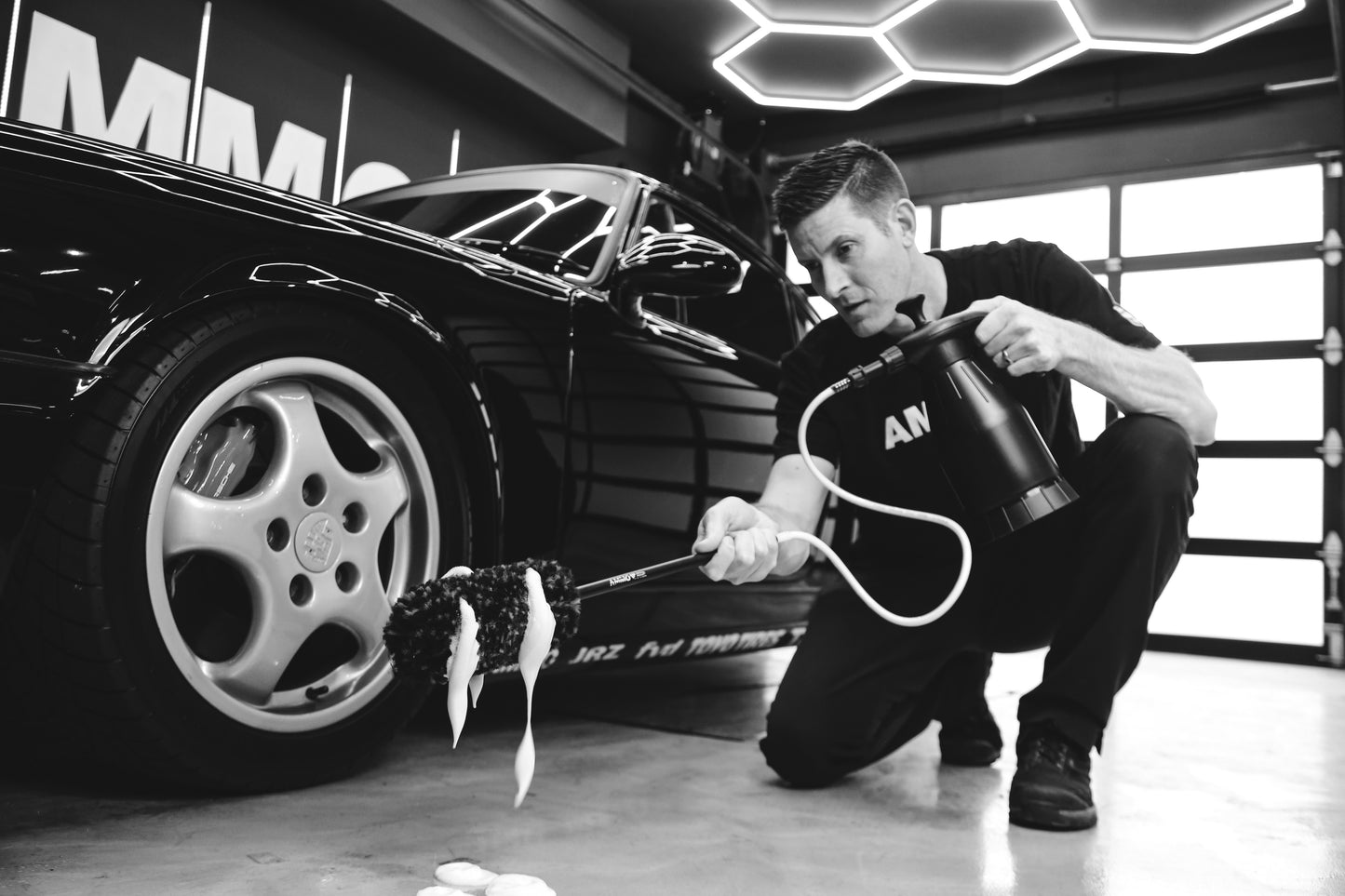 Product Details
How do I use AMMO FLO-THRU WOOLIE
Must Have
This attachment makes it super easy to clean the wheels and brake components. If you own an Aerator this is a must have!
Flo thru Woolie
This Is incredible! Larry's a genius. An essential tool for easy cleaning of the wheels. Works perfectly! Game changer. The thick foam comes out beautifully from the aerator onto the woolie. And man this woolie is super soft! What an idea!
Full hoseless Rinsless wash
The missing part for a full hoseless wash. I found that if you let it evaporate some it makes it easier for cleaning. Towels won't get so wet. This make me feel like I'm giving my car a much deeper cleaning than just washing the face of tires. Larry my wife said she spoke to you and that you took care of our issues and I did get this in time for Father's Day. Thanks! Great customer service. Highly recommend for those that are into Rinsles wash.