Hoseless Wash Anti-Salt Concentrate
Regular price
Sale price
$38.00
Unit price
per
Sale
Sold out
The safest way to wash your car & remove salt without a hose. 
AMMO FROTHe Anti-Salt Lift & Wash is a 20x concentrated (low pH) Humectant that creates a thick shaving cream-like foam to protect the surface of your paint from scratching during a hoseless wash. Formulated with salt-neutralizers for harsh salt-heavy winter environments or coastal regions that cause accelerated corrosion and damage. Perfect for apartment dwellers, water-restricted areas, or dry oceanside climates.
25-30 "hoseless" washes per bottle

Thick shaving-cream like foam covers the surface

Safely lubricates to lift dirt and neutralize road + ocean salt

Designed for AMMO Aerator or Pro Foamer

Perfect for apartment dwellers, water restricted areas

Better alternative to "mechanical washes"
Share
View full details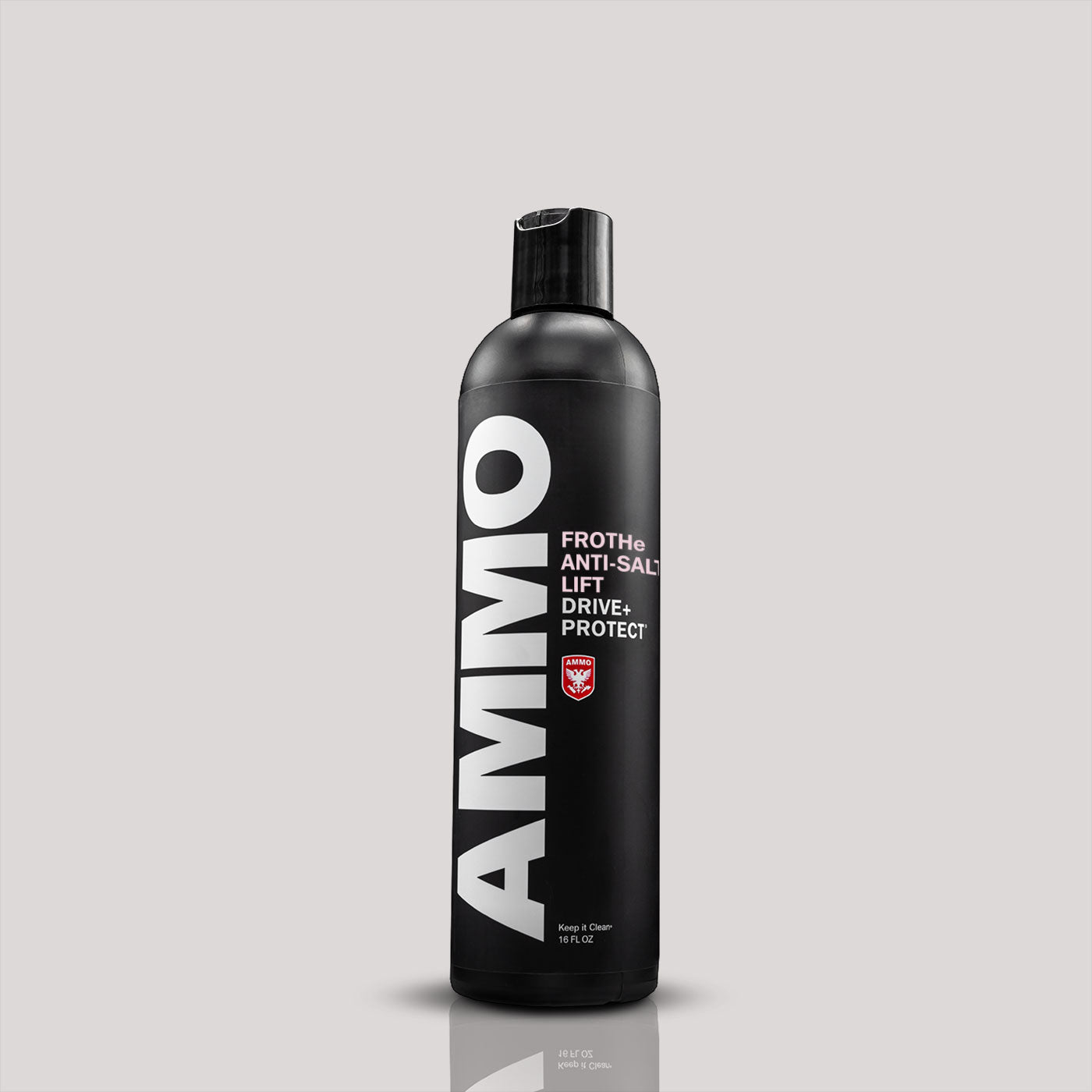 Product Details
How do I use AMMO FROTHé Anti-Salt Lift & Wash (Concentrate)
AMMO FROTHé Anti-Salt Lift & Wash (Concentrate) FAQ
Only thing I use during winter
This is my go to, I put away my pressure washer when I put away my lawn mower. For the past 6-7 years I have been using the same Aerator and FROTHé, all year round
I do not use the car wash nor the self service, but you can spray FROTHé + Anti-Salt on your car, and rinse at a self service car wash and it will take off all the dirt, salt, and grime, much better than any car wash soap will do, FROTHé + Anti-Salt is my peace if mind during winter
Winter Go To
This has been and will always be my go to in winter when I can't be out in the driveway with the pressure washer.
I never worry about scratching the finish.
Marvelous solution for winter washing
I live in Northern Minnesota. On Sunday I did a waterless wash in my garage on my wife's red velvet 2017 Chrysler Pacifica Limited van with Frothe Anti-Salt followed up by Hydrate. A blizzard was raging outside. The products were very easy to use and the results were marvelous and stunning even without polishing and a coating. I was super surprised and pleased by the result. The van was not only clean, but the red velvet popped - something I didn't expect.
Great solution
Great for apartment dwellers.