Premium Lubricant Drying Aid
Regular price
Sale price
$25.00
Unit price
per
Sale
Sold out
AMMO HYDRATE has changed the way you dry your paint and is our best-selling product.
We know you love your car – that's why you wipe it down so much. But it turns out the drying process can cause many of the fine scratches (we call them "love marks") on your paint that can mar its brilliant finish. Enter AMMO HYDRATE, a thick liquid that creates a barrier between your microfiber towel and the surface of your paint, leaving behind a thin layer of protection until your next washing session.
Thick lubricant for drying paint, glass, trim

Minimizes risk of scratching and swirls when drying
Leaves behind thin layer of protection and increased shine
Reduces water spotting
Can be used wet or dry for touch-ups
Scents of blueberry
Made in the USA
Share
View full details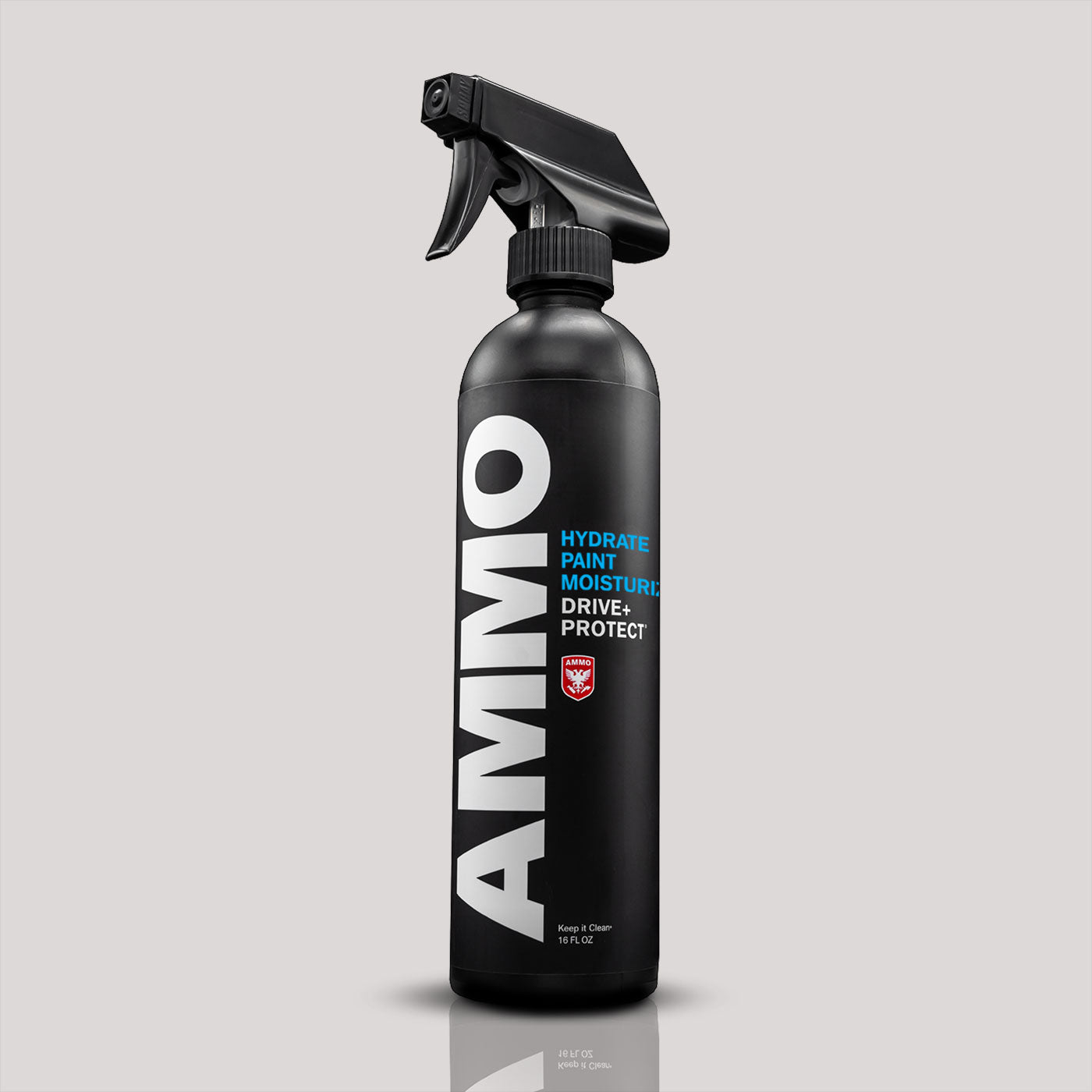 Product Details
How do I use AMMO Hydrate Paint Moisturizer
AMMO Hydrate Paint Moisturizer FAQ
Incredible formula
Larry has outdone himself with this one. I used this on my paint and gloss black wheels and it brought out an incredible, deep shine while also removing water spots and streaks. The perfect post-wash product for any detail geek. My car and I thank you Larry!
Reverse engineered from alien technology
Now that we are learning the government has been hiding alien spacecraft and reverse engineering the technology, I suspect Larry and the aliens are involved with the formulation of this product. It is truly out of this world. In the pantheon of human inventions, hydrate ranks up there with the wheel and controlled fire. Absolutely amazing. It's no longer a mystery why those dying saucers are so smooth and shiny.
Hydrate
This is by far the best post wash formula for keeping streaks off the paint and bringing out an incredible shine. I used Froth hoseless wash out of the pump foamer and then finished off with Hydrate. I may never use water to wash my car again. It looks great and was a lot less time consuming than a full wash/rinse/dry/protect cycle. Excellent product and the results are more than what I expected.
Repeat customer
Haven't washed any car without it in years !