Vacuum Extractor and Steamer
Regular price
Sale price
$2,099.00
Unit price
per
Sale
Sold out
Professional Grade Automotive Steam Vacuum.
The AMMO US STEAM VACUUM combines the highly effective cleaning power of Steam with the extraction of a vacuum. No more long drying times and wet seat bottoms! The dual-tank boiler heats and is ready for detailing in 5 minutes while the water filtration vacuum removes dirt and moisture brought to the surface during cleaning. The vacuum reduces dry time to less than an hour. The Steam Vacuum uses a separate fill bottle to add extra hot water while cleaning. The machine is capable of producing steam up to 300*F at 65psi and has a working radius of 24ft, perfect for vehicles of all sizes. The multi-purpose cleaning capabilities of the AMMO Steam Vacuum are ideal for the discerning professional and/or weekend warrior.
Safe and effective cleaning for interior detailing and general vacuuming
Cleans & kills bacteria, allergens, viruses, bed bugs, lice
Ready to use in 5 minutes
Dual purpose vacuum and steam cleaning ability
Reduces dry time to less than an hour
Great for removing pet hair
Share
View full details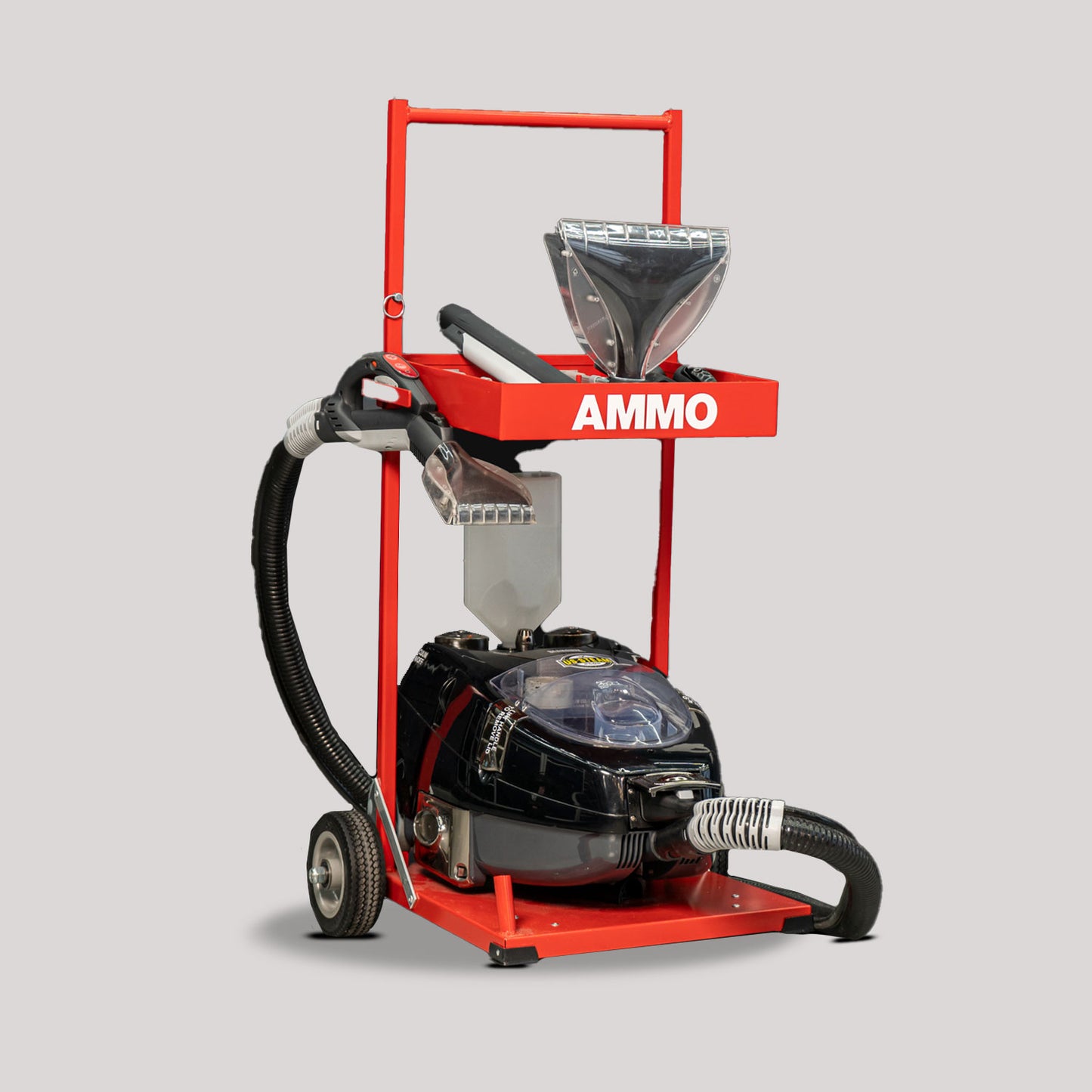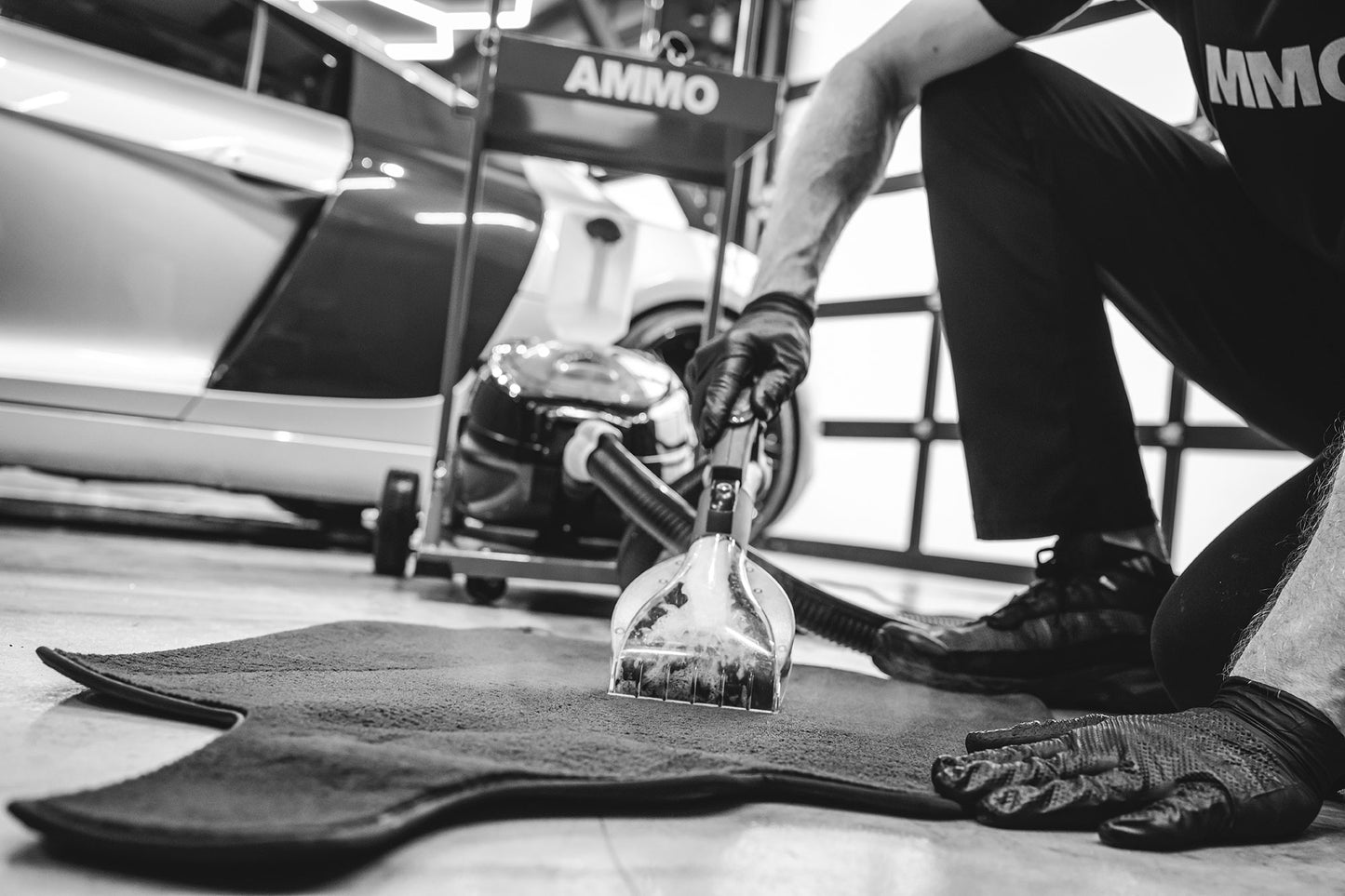 Product Details
How do I use AMMO US STEAM VACUUM
I Feel The Need … For STEAM!
My loving bride gifted me the Ammo Steam / Vac for my birthday. I put it to the test on what I thought was my 'mostly clean' 1978 Datsun 280Z. What the machine pulled out of the interior was gross and disgusting! It was very satisfying to dump all that crud down the drain, knowing my Z was now even cleaner! Next for the steam treatment, is my '72 BMW 2002! Love this product! While it is spendy, it is a high quality, commercial grade tool I need to detail my vehicles. This is no 'kid stuff'…. Well done, Larry! Thank you.
The Best
Always been a huge fan of Larry. When I saw this machine I was amazed and knew I needed it. Works absolute wonders. Best part is it's so easy to use/maintain. Everything feels solid in hand and you can just see/feel the quality all around. Suction is great. You can literally use the steam head attachment for everything you can think of along with all the other attachments it comes with for other uses. Thank you so much again Larry for the help and being so kind throughout the purchase.
Worth the money
First off, I just received it today, and I am still waiting on cart (Larry's AMAZING customer service skills he said it wasn't up to his standards, and will get me one ASAP).
Anyhow, I purchased this May 15/17th 2022, arrived today (due to FedEx Delay), and soon after I bought it Larry actually shot me an email thanking me for buying it, and letting me know the cart situation, and then actually called me (unfortunately I couldn't answer I was at work), BUT the length this man will go to ensure good customer service.
I tried it out today (after trying to figure out the vacuum/suction part for 5-10 minutes) my Lighting Fast Carpet Solution on my carpets (not heavily stained), and just with the steam it took about 30-40 minutes for it to dry the carpet afterwards which is PHENOMENAL! I know that it can be used a steamer too, I will make sure to use the steamer on 3 cars this weekend for I can actually see the amazing power behind this.
I haven't seen any reviews on YouTube over this piece of equipment BUT I will be looking forward to filming carpet extraction, getting a review up on YouTube giving my honest opinion, since this product should be bought more than a $1000 hot water extractor, when you can have steam & hot water.
Once again, thank you for the amazing customer service, hope to see how good this will work on carpets in a more stained setting, as well as getting a review up on YouTube (honest opinion).
An Absolute Must Have!
Cheers everyone, I have to start my review with the "Amazing" Customer Service provided by Larry. My unit arrived with some slight damage from the shipper. I reached out to Larry at AMMO and the response and handling of the situation was first rate. Having been held to the highest standards as a Porsche Brand Ambassador from 2005 until January of this year, I know what Excellent customer service is. Now enough about me and on to the fun stuff. I have used my AMMO Steam Vac in the house and cleaned a rather large throw rug in our living room, and it turned out amazing! and just finished a rather messy Infiniti with most of the Chocolate From, The Willy Wonka Candy Factory melted into and around the center console. This was an absolute mess! since there was a large amount in the cup holders and sides, I just put an old micro fiber in the bottom and one over the top and worked the steam nozzle attachment in the effected area, when the steam vapor cleared, all of the Chocolate was collected by the micro fiber in the cup holder. I did not use any APC or chemicals prior to the steam, this mess was baked onto the plastic!. Absolutely incredible results wiped the area out, then used a small amount of ph cleaner and a little more steam to kill anything that was left over that your eye cannot see. I am very impressed at the carpet cleaning capability of this unit. The amount of dirt and sand in the collection tank was amazing, carpets are just damp to the touch depending on how many passes you need to make. The ability to incorporate hot water with the steam is a game changer. This unit with an Orange or Red Micro fiber towel rubber banded around one of the cleaning heads, makes cleaning leather a breeze! I pre steam and clean to loosen and open the pores in the leather and remove surface issues, then use a PH correct cleanser and the Boars hair brush, that I purchased from Ammo to lightly tickle those seats, wipe and you are done.
If you are remotely serious about your business and craft, you owe it to yourself to purchase this unit, not to mention the AMMO Ferrari Red Cart makes me feel like, I am on a Formula One Pit Team!
35 years in the business and still learning this incredible craft.
Again the level of customer service provided by AMMO NYC was above and beyond. Thanks Larry!
Cheers
Ryan Martin
Spokane Valley Wash