Fast Wheel Cleaning Spray
Regular price
Sale price
$20.00
Unit price
per
Sale
Sold out
Safe, effective wheel cleaner.
Wheel acids are amazing at their job, but if used incorrectly, they can cause permanent damage. AMMO PLUM is different. It's made with incredibly effective alkaline, much safer for you and your rims. AMMO PLUM encapsulates brake dust and agitates it away from the surface. We've removed the color-changing aspect; it was more for show than for go. But don't worry, you'll still see it working as it chomps down on brake dust and dirt. By the way, it smells amazing.
Alkaline Cleaners safe for all rims (no acid)
Releases embedded brake dust
No chemical strong smell
Works great on excessively dirty rims

Use in conjunction with AMMO BRUTE for amazing results

Scents of Plum
Made in the USA
Share
View full details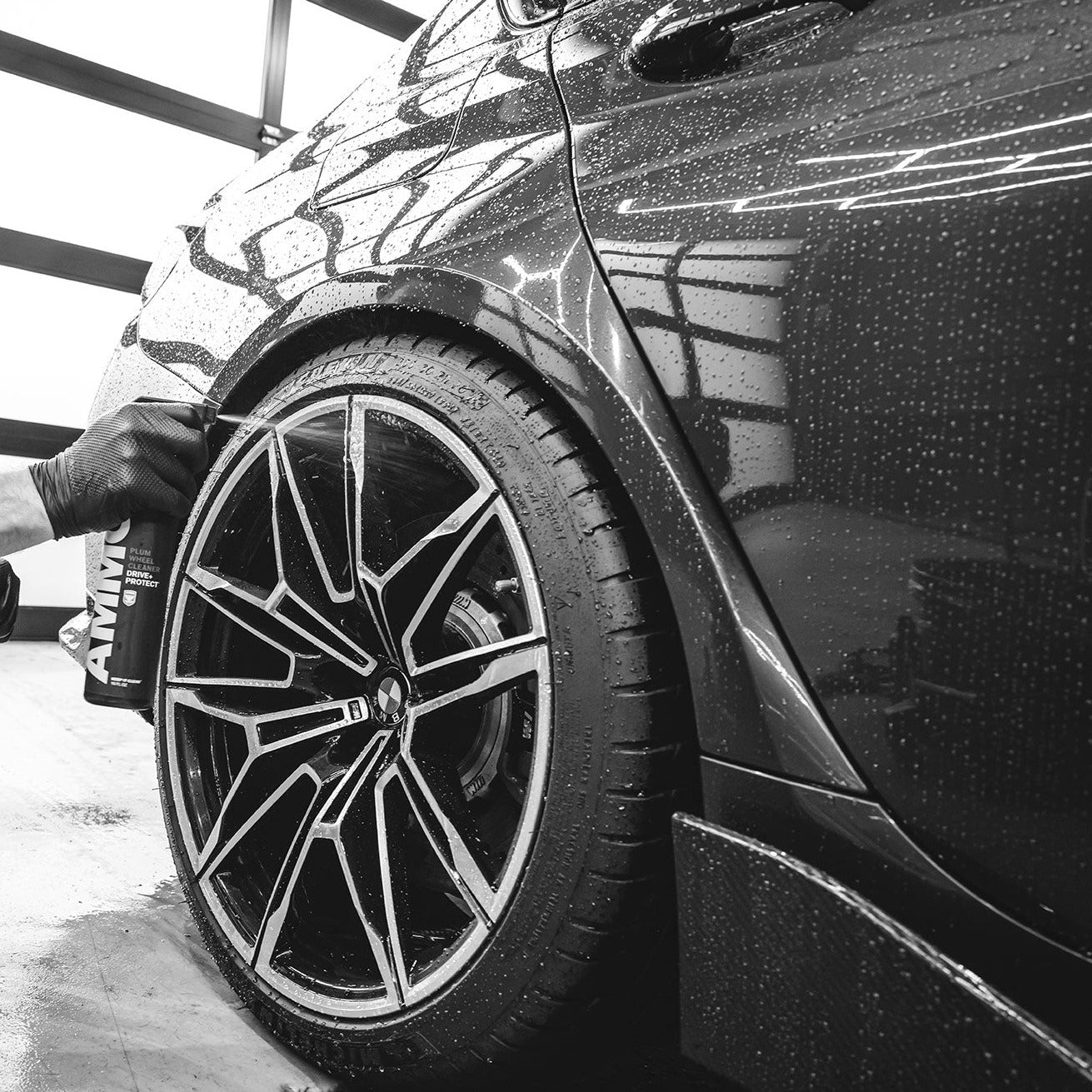 Product Details
How do I use AMMO Plum Wheel Cleaner
AMMO Plum Wheel Cleaner FAQ
Plum
Keeping the AMMO theme, Plum is a critical part of the wheel arsenal. The Plum and Brute combo, is outstanding. It can take wheels, brake and calipers that are caked with brake dust and road grime and make them look like the car hasn't been driven. I have yet to use the combo on an application and not get amazing results, with comparatively little cleaning effort. Let the chemical work and do their thing. Those chemicals in combination with the correct brushes will get you the results you want. Collectively: Plum, Brute, Gelee (Pro) and Mudd with make your wheels and tires the first thing that people notice on your car. : )
Brake Dust and Grime BEWARE
Excellent product for use on stubborn brake dust and road grime. Cuts through the dust like butter and when paired with Brute, leaves your wheels shiny and fresh.
Instant Gratification!
You see the product work immediately turning purple when coming into contact with carbon dust.
Great product
Best wheel cleaner I've used in a long time.