Purpose built Wheel & Metal Protective Coating
Regular price
Sale price
$95.00
Unit price
per
Sale
Sold out
Ceramic coating made specifically for wheels and metal.
You do not want to live life as the wheel of your car. It's hell. All that dirt and dust. Extreme temperatures because you braked into turn 3 too late. Caustic brake dust everywhere. Just gross. What they need is some help in the form of AMMO GELEE PRO WHEEL AND METAL COAT. This wipe-on formula is much stronger than the REFLEX PRO meant for your paint. It's high-temp resistant and will make cleaning your wheels (painted or unpainted) much easier. AMMO GELEE PRO WHEEL AND METAL COAT can also be applied to brake calipers, boats, exhaust tips, and other bare metal surfaces.
Strong heat resistant protection (5x more solids)

Simple wipe-on formula

Makes cleaning your wheels easier

Excellent for any metal trim (cars & boats)

Great on exhaust tips

INCLUDES 1 MF APPLICATOR
Share
View full details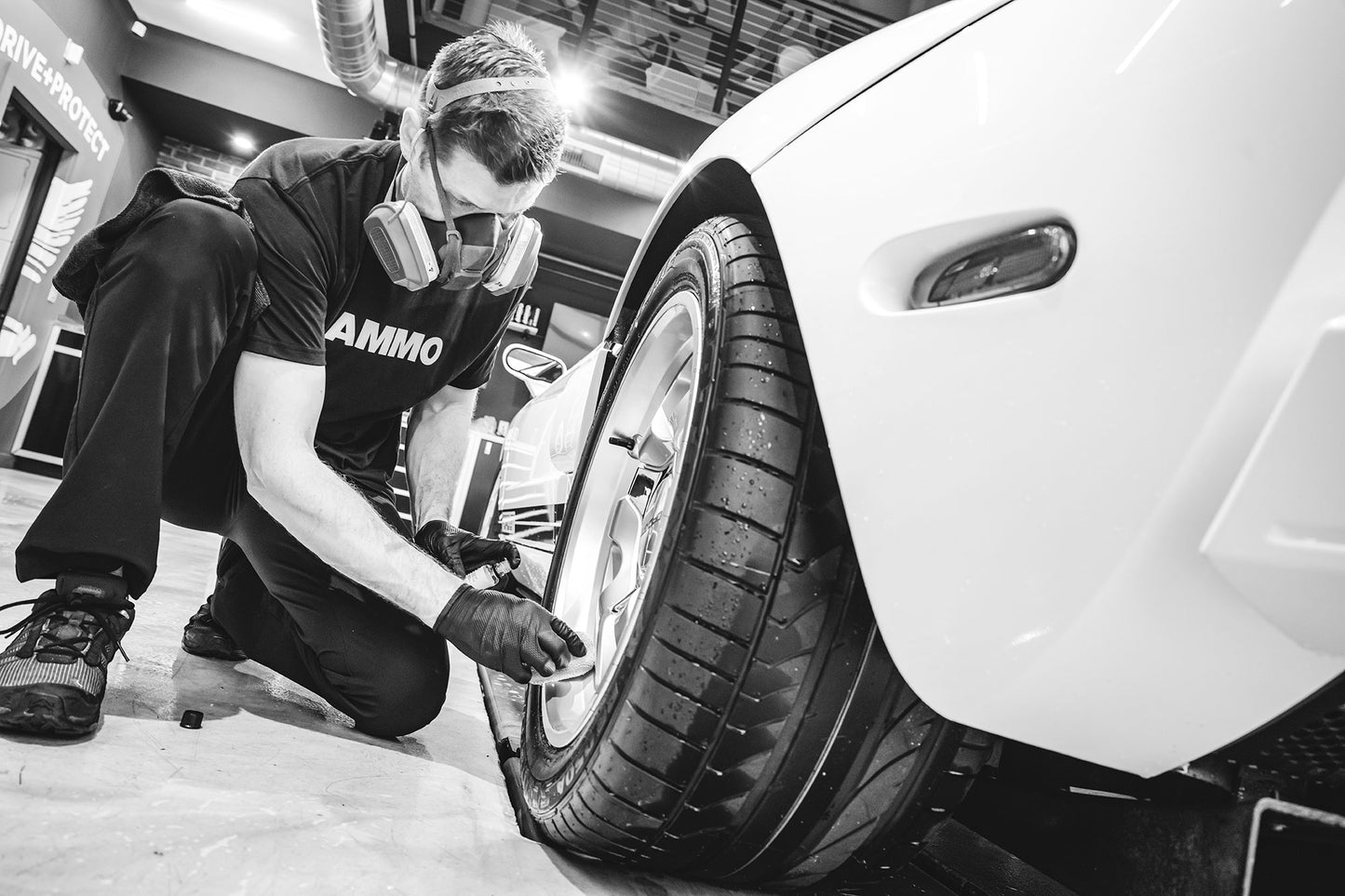 Product Details
How do I use AMMO Gelee Pro Wheel & Metal Coat
AMMO Gelee Pro Wheel & Metal Coat FAQ
Gelee Pro
The most tangible attribute of Gelee Pro, is the ability to remove brake dust and road grit with ease. Once a proper coat of Gelee Pro is applied to the wheels, wheel upkeep is faster and the wheels immediately return to that look of just being detailed. Great product.
Awesome product¡!!!!!!
Wheels look great, cleaning is a breeze, this product is the best!!!!
Actually makes cleaning wheels enjoyable!
Gelee Pro works absolutely brilliantly! I hate (HATE) cleaning wheels but after an application of Gelee Pro, all it takes it just a rinse with the pressure washer and you can literally watch the brake dust wash away before your eyes. No more scrubbing into and out of spokes. It's so good in fact that the family truckster has two coats of it and after driving through rain...the wheels clean themselves! Last but not least, the depth of gloss and shine is incredible.
The only product line I use on my Porsche
Genre has drastically cut down the number of times that brake dust costs my silver wheels