Layerable Paint Sealant Protection
Regular price
Sale price
$65.00
Unit price
per
Sale
Sold out
The perfect automotive paint sealer.
I've always thought of my car's paint like skin. It needs to be nurtured like skin, breathe and flex like skin, and be protected from the sun just like our body's skin. Figure out why I've named it AMMO SKIN yet? This viscous lotion will fill in the pores of your paint with good stuff, helping to block harmful UV rays and harsh road contaminants to ensure a long-lasting, beautiful finish. AMMO SKIN can be used every 3-6 months to help maintain your paint's protection.
3-6 month sealant protection

Layerable
Offers UV protection
Applies over Reflex Pro & Reflex Foundation
Extremely Hydrophobic
Made in the USA
Share
View full details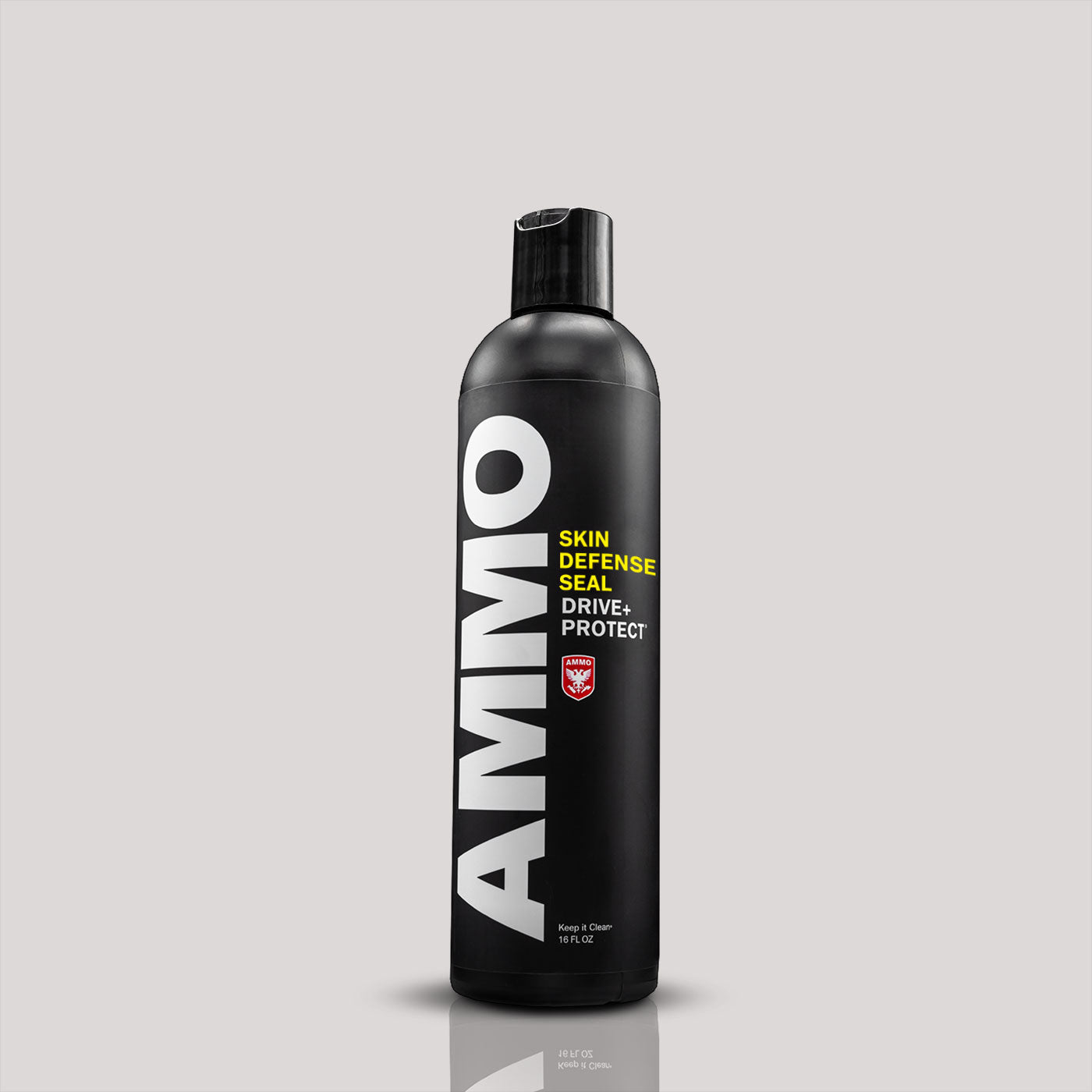 Product Details
How do I use AMMO Skin Defense Seal
AMMO Skin Defense Seal FAQ
Damn
I used this on my car after a lengthy multi stage paint correction. I'm still in awe with how good it looks. I actually like my car now. It was a turd now it's a polished turd. Thanks Larry for making car not look so terrible!
Paint is Ford Onyx Black Metallic. Didn't know it had so much flake.
It's all I will use.
After trying various products on my black car I was disappointed in the shine and consistency of the paint. I compounded and polished the car first and then I went back to the method I used in the early '80s. SKIN is a big improvement over the Meguiers sealer I used back then, and that is saying a lot. The paint looks much deeper after 3 applications of SKIN and the car is easier to keep clean. Thanks for providing a great product and making my life easier.
One bottle last forever!
One bottle lasts forever! Per the instructions, I use 4 times a year on both of our cars and still have more than half of the bottle left. Absolutely stunning protection as well. Our car had to sit outside at the dealer for nearly a month (waiting on service), thankfully a few weeks prior did my quarterly application. Washed it when we finally got it home and wow! Looks like I freshly waxed it!
DetailsbyRosario
Nothing but excellent results for my clients, The gloss n protection are stunning. My repeat clients always compliment me.