FIRST 100 ORDERS RECEIVE SPECIAL GIFT
Regular price
Sale price
$895.00
Unit price
per
Sale
Sold out
The Definitive Set of AMMO Polishing Tools
After years of development and refinement, the complete AMMO Polishing Kit is here designed to Larry's specifications. The kit features the custom AMMO White Polisher and all the accessories you will need for a show car finish. A custom AMMO Designed Bag stores your equipment, pads, liquids, towels, and inspection tools for on-the-go service. Whether you're a novice, weekend warrior, or professional detailer, the AMMO Polishing Kit is designed for real world polishing results and repeat success.
Custom White AMMO-Rupes Bigfoot 21
Custom AMMO Design Polisher Bag
1x AMMO X-FOLIATE POLISHING FLUID
2x AMMO SHEER CUTTING PAD
2x AMMO WAFL CUTTING PAD
1x White MF Polishing Towels
Share
View full details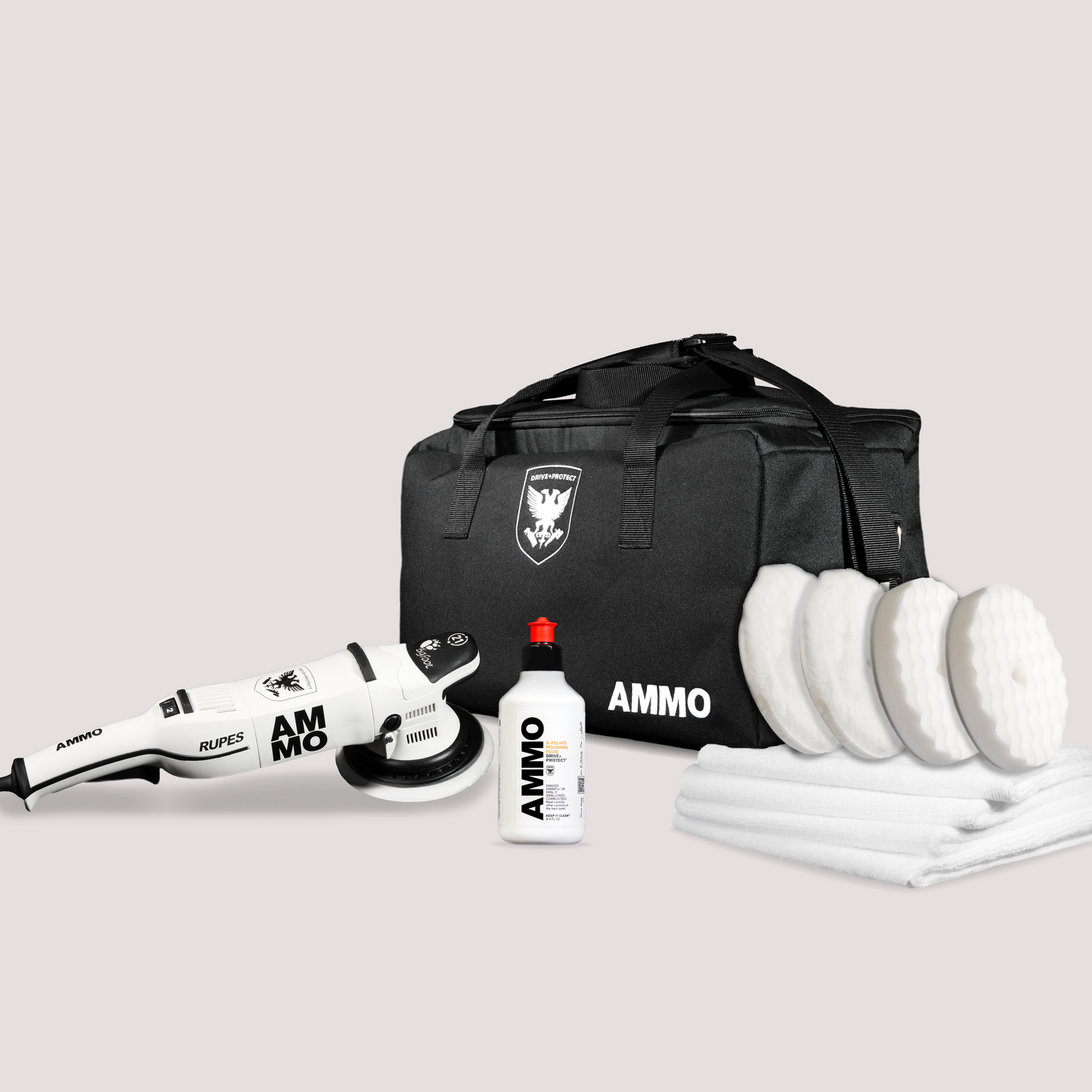 Product Details
How do I use AMMO Polishing Kit
Great Buy!
To anyone on the fence waiting to buy this product, my advice to you is, "DON"T WAIT!". This product is just that awesome.
The design of the Bigfoot really is something special... as Larry said it looks like something almost out of Star Wars!
The bag is really cool as well. The various Ammo spray bottles fit in there perfectly, and we all like our little Easter Eggs... the embroidered Ammo logo on the bottom of the bag is really over the top! I also love how the Ammo logos and company name are embroidered onto the bag, not some cheap silk screen or anything like that.
Again, if you are on the fence, just do it! You can even get deferred payments via ShopPay if money is an issue. My word isn't much, but I can personally guarantee that you would be hard pressed to find a higher quality product out there. When it comes to Ammo products, there is no compromise!
Thank you Larry for the amazing products... keep them coming!