Clean and Protect your interior with Lather, Shag + Mousse.
Regular price
Sale price
$67.00
Unit price
per
Sale
Sold out
All the interior essentials
Your car's interior gets just as gross as the outside, but we can fix that with the AMMO INTERIOR REGIMEN KIT. It has AMMO LATHER, a safe, gentle interior cleanser that will make oils, dirt and bacteria a memory. AMMO SHAG will bring your carpets and rugs back, and AMMO MOUSE is perfect for filling in the pores of leather surfaces. When you combine all three, your interior will smell amazing. No really, get ready to read a book inside after you're done.
Cleans and rejuvenates your vehicle's interior; expect compliments!
SHAG keeps your carpets & upholstery smelling fresh
LATHER cleans and maintains your plastic, leather, vinyl.
MOUSSE hydrates and protects your leather!
Retains your original interior finish, No artificial shine or residue
Share
View full details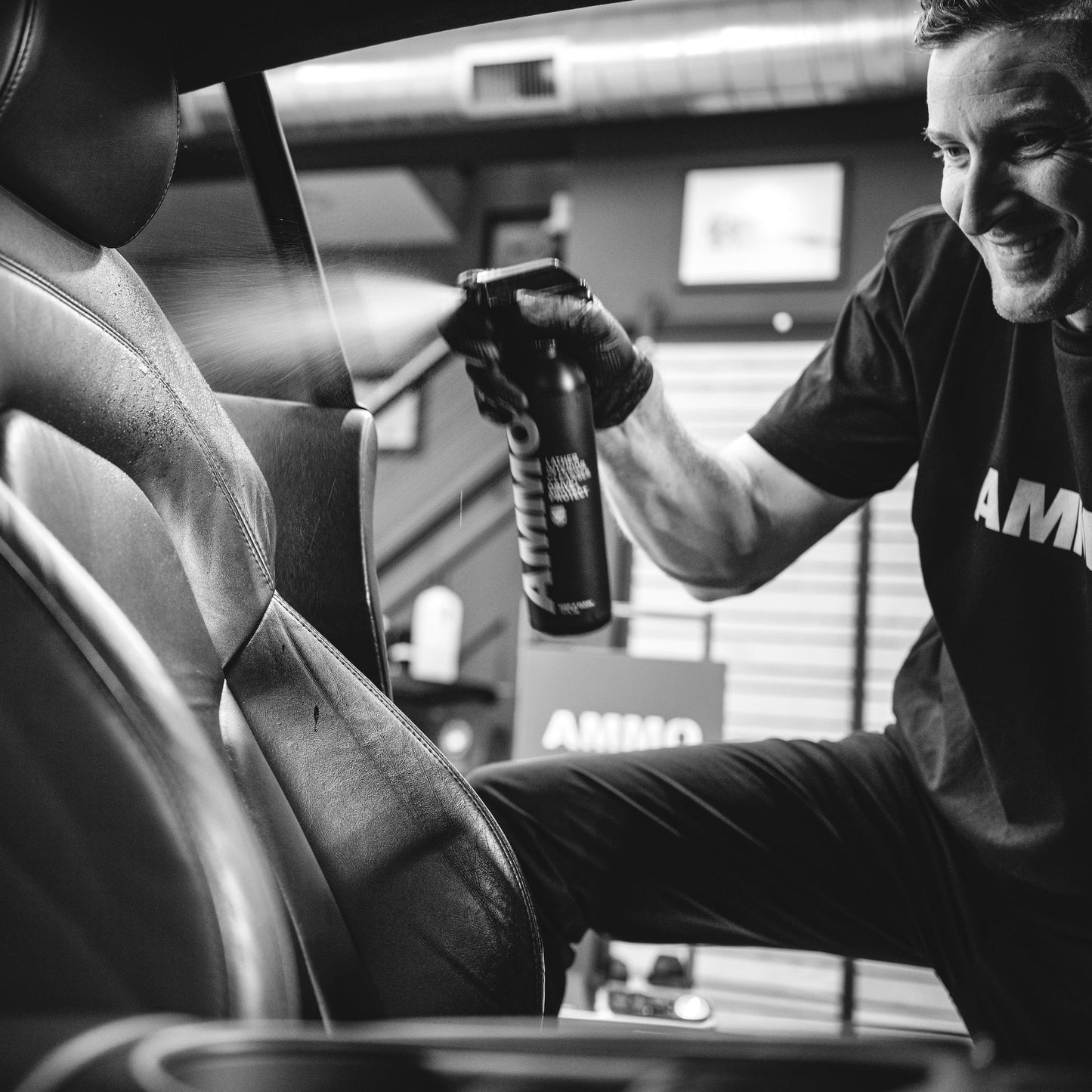 Product Details
How do I use AMMO Interior Regimen Kit
AMMO Interior Regimen Kit FAQ
What a wonderful product
What a great item, I have looked for years for a good interior cleaner and conditioner. Larry has hat taken the podium on these products. First it works and is gentle enough not to tear up the leather or cloth materials that are in the newer cars and the older ones as well. I love that that the sheen is perfect it resembles the "new" car feel and smell, not shiny, not smelly, and affordable. I was looking for something that would resemble a professional detailing and this product does not disappoint!! Great JOB!! Thank you for being "this kind of crazy"!!
I drive a 2019 Maxima-Black on black. Bought the Ammo interior kit. The leather looks as good as the day I bought the car. Carpet cleaner works fantastic. Steering wheel looks great. Very happy with the product. As advertised.
Works grate!
I have followed the ammo nyc youtube Channel for years now and finally got around to buying the interior regiment kit. It was exactly what I hoped for and was able to clean years old grime from the interior of my newly bought old 2001 Infiniti g20. I couldn't be happier.