Easy Hoseless Wash Concentrate
Regular price
Sale price
$35.00
Unit price
per
Sale
Sold out
The easiest, safest way to wash your car without a hose. 
It's cold. Or maybe you don't have access to a hose. But your car, it's dirty. You just need to make it look good, and spray wax alone just won't cut it. That's what AMMO FROTHé is for. A 20x concentrated humectant that creates a thick shaving cream-like foam. It'll protect the surface of your paint from scratching during a hoseless wash. AMMO FROTHé can be used on wet or dry paint and does not require a final rinse. Perfect for apartment dwellers, water restricted areas, and out on the road with no access to water.
25-30 hoseless washes per bottle
Thick shaving cream-like foam protects the surface from scratches
Safe lubricates to lift dirt off the paint
Designed for the AMMO Aerator or Pro Foamer
Scents of Mint
Safer, more efficient alternative to spray wax or waterless wash products
Made in the USA
Share
View full details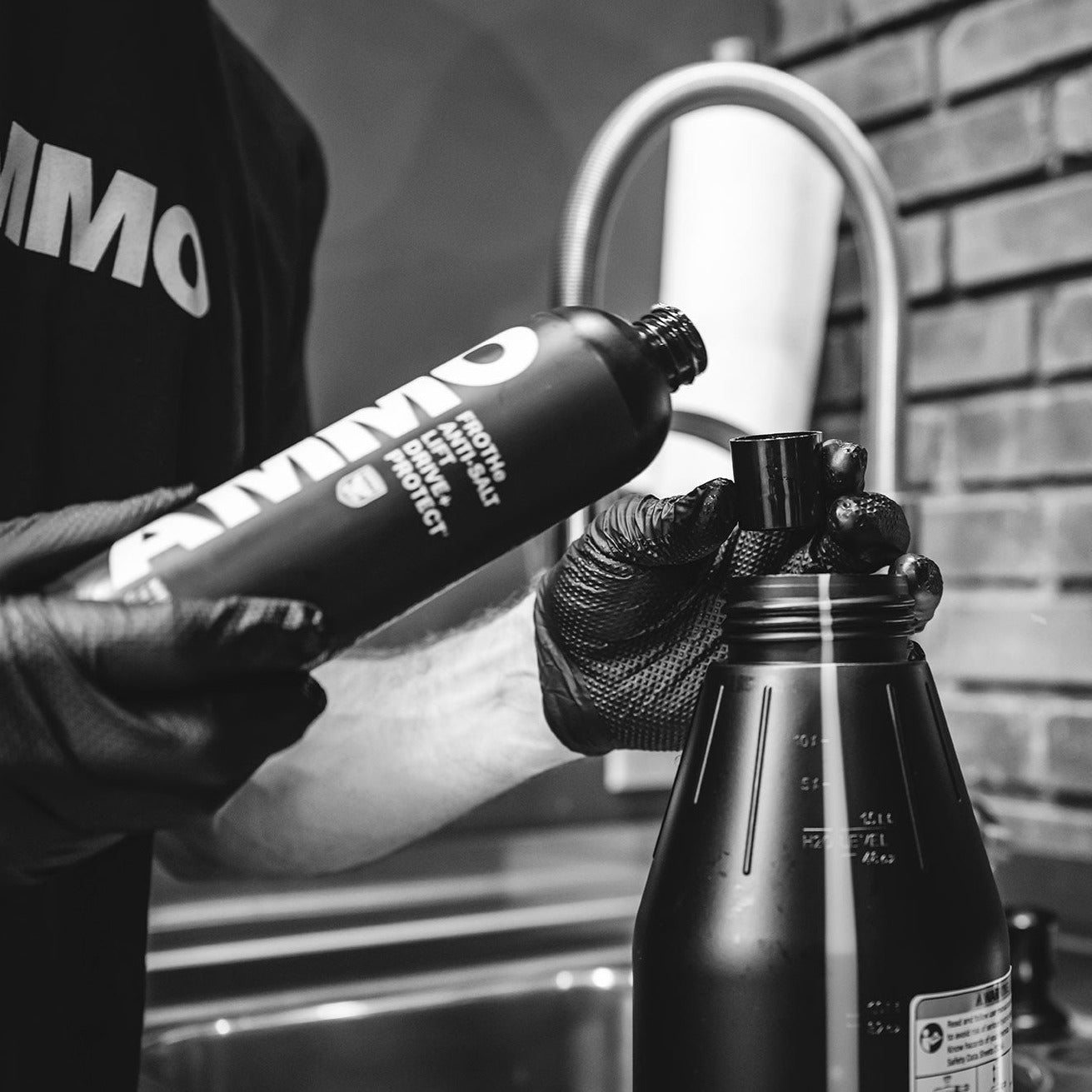 Product Details
How do I use AMMO FROTHé Hoseless Lift & Wash (CONCENTRATE)
AMMO FROTHé Hoseless Lift & Wash (CONCENTRATE) FAQ
Works great!
Order arrived quickly in 2 days - shipped to Chicago. Used it this morning for first time on my MX-5 Miata. I should have filled it with 40oz of water as the video suggested; figured since I had a smaller vehicle only needed 20oz. Started running thin when I got to the rear trunk/bumper zones. Will use Frothe again with more water next weekend so I can put wax on afterwards. Much easier than using water hose when I had a home!
Note: the aerator was put together tightly, took some doing to unscrew it (plastic is slippery!)
The next big thing since sliced bread
When paired with the aerator, frothe delivers a nice thick dry foam. I tend to use more than larry does in his videos just to be absolutely sure there's enough lubrication. Don't expect it to look like foam cannon foam though. Frothe also smells super good!
5 years of nothing but Frothe!
I've been using this product for 5 years, as the normal weekend wash on 3 vehicles.
I don't live in an apartment, but I do live in rural America on a well, with -extremely- hard water. I've attempted to use softeners, and in-hose de-ionizers, and although they're okay, they don't really last all that long in the summer when I can't just use them for the rinse portion. Enter AMMO Frothe.
When this came out, I had to have been one of the first people to order the product, I love this stuff. I use alot of product, probably more than I need, but that just means I have more lubrication and it evaporates anyway, so... so what!
I've always used distilled water in the aerator, and that thing lasted me about 5 years too, so no water spots, great for winter, and I don't have to worry about it. This is seriously an incredible product and unless I drive through a bug migration, water, or power washers just seem so overkill to me now!
Shockingly Effective!
I used Ammo products when we owned a home and I had a hose to knock off the heavy stuff before washing. Truck always came out gleaming. We recently moved to the PNW and we're spending days up on the mountain with truck and are now living in an apartment. I'm using Frothe with the Ammo Aerator as I'm washing the truck in an underground garage with no access to water. After a harsh day on roads with salt, mud, dirt, dirty snow, ice and all the things that come with driving in mountain passes, I "washed" the truck with frothe, the aerator, and a little bit of boost. It is shocking how powerful a clean you can get even without water. I've always been a 5/5 stars for Larry's products, and this is no different! Highly recommend for those living in an apartment or who are constantly driving on sloshy dirty winter roads/trails.